ORGANISE your trip to ALSACE with ALSACE WELCOME
Our advantages:
Our region benefits from many advantages and has a great many sites and facilities in all fields:
1. Historic sites
2. Museums
3. Chateaus and monuments
4. Botanical and zoological parks and gardens
5. Well-being centres (hydrotherapy, spas, vino-therapy, etc.)
6. Fun or sports leisure facilities:

♦ Amusement parks
♦ Theme parks
♦ River trips
♦ Golf
♦ Hunting and fishing
♦ Farm activities
♦ Harvests, 'grape-picker for a day' operation
♦ Rambles; cycle, motorcycle, quadbike and car routes, etc.
7. Shows and entertainments:
♦ Casinos
♦ Music-hall, cabaret
♦ Concerts
♦ Theatre
♦ Village fetes, etc.
8. Conferences and seminars:
♦ Conferences centres
♦ Exhibition parks
♦ Complexes of all sizes
♦ Big tops
♦ Caterers
♦ Meeting rooms equipped with multiple facilities, etc.
9. Outstanding natural sites:
♦ Regional natural parks
♦ Ski resorts, etc.
Guided tours with interpreters can be organised on request.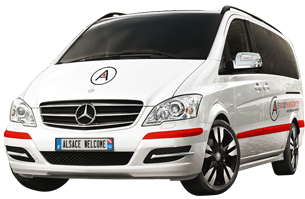 Alsace Welcome relies upon a partner transporter with a fleet of modern and comfortable vehicles, providing journeys under good conditions throughout the trip, from airports or stations, from the day of arrival until departure.
Our strength
Full knowledge of the local market

Good geographical coverage with our members well spread over all segments

Ability to listen and adapt to the request

High requirement level

Passion and desire to satisfy our Customers at the right price!